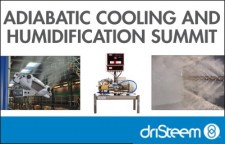 Eden Prairie, MN, June 30, 2017 (Newswire.com) - DRI-STEEM Corporation (DriSteem), a leading manufacturer of humidification, evaporative cooling, and water treatment systems, hosted an Adiabatic Cooling and Humidification Summit on May 17-18 in Budapest, Hungary.
Zsolt Turoczi, DriSteem Eastern European Regional Sales Manager, presented on a number of topics including DriSteem Wetted Media System, High Pressure Atomizing System (HPAS), and Water Treatment Systems.
Adiabatic (or evaporative) cooling and humidification systems draw heat from air to evaporate unheated water introduced by either high-pressure nozzles or wetted media. This process raises the relative humidity (RH) level and lowers the dry bulb air temperature. Consequently, these systems humidify and cool air very efficiently. As water is absorbed in air, the evaporative cooling effect reduces the building's cooling load.
The DriSteem High Pressure Atomizing System and Wetted Media System are very low maintenance systems. High-Pressure Atomizing System water treatment options available from DriSteem provide ultra-pure water that leaves no white dust. Wetted Media Systems recycle water, after it flows through the media, with robust centrifugal pumps. The Vapor-logic® controller manages the concentration of dissolved solids in recirculated supply water to minimize scaling and lengthen media life. When required, new media cassettes easily drop in place.
Marc Briers, DriSteem European Regional Sales Manager, said "This summit on adiabatic cooling and humidification systems was very successful – we covered the psychrometrics for adiabatic humidification and cooling, as well as how to select the right product for an application."
About DriSteem
DriSteem is a premier provider of humidification, evaporative cooling, and water treatment solutions for commercial and industrial applications. DriSteem offers custom systems for critical indoor environments such as health care, data centers, and other facilities requiring precise control of moisture and cooling in the air.
DriSteem's 50-year history of development and innovation has resulted in multiple patented designs that not only meet, but anticipate, customers' unique needs. DriSteem is a subsidiary of Research Products Corporation, manufacturer of Aprilaire®, the leading residential humidifier brand, as well as air cleaners, heat-recovery systems and HVAC accessories. Visit DriSteem at www.dristeem.com.
###
Source: DriSteem
Share: