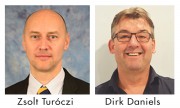 Eden Prairie, MN, July 21, 2015 (Newswire.com) - DRI-STEEM Corporation (DriSteem), a leading manufacturer of humidification, evaporative cooling, and water treatment products, is pleased to announce two additions to the company's European team. Zsolt Turóczi has been appointed Regional Manager for Eastern Europe, and Dirk Daniels has been appointed Technical Support Representative, covering all of Europe.
These new appointments are part of the continued expansion of DriSteem's presence in Europe. Zsolt and Dirk bring a wealth of experience and knowledge in HVAC technology and especially humidification to further strengthen DriSteem's ability to meet the needs of its European customers.
Zsolt Turóczi, who joins as the DriSteem Regional Manager in Eastern Europe, has over 20 years of experience in the HVAC industry. He is a former DriSteem distributor, where he owned and managed Geohome Hungary of Budapest. Zsolt holds a Mechanical Engineer degree from the Technical University of Budapest.
"We are very excited to have Zsolt join our team as he is already very familiar with our products and their features, so he is immediately ready to consult with clients," said Nick Ibarra, DriSteem's Director of Sales.
Dirk Daniels is DriSteem's new Technical Support Representative in Europe. Dirk began his career as a refrigeration installer, and has worked with leading HVAC companies including Stulz Klimageräte and Munters. With over 20 years of experience in the industry, his skills as a service technician and trouble-shooter make him the ideal partner for technical support needs.
"The addition of Dirk to our Technical Support team provides us with the ability to continually supply best-in-class support to our customers throughout Europe," says Marc Briers, European Sales Manager. "The appointments of Zsolt and Dirk are part of our commitment to providing the best customer experience in our industry."
About DriSteem
DriSteem is a premier provider of humidification, evaporative cooling, and water treatment solutions for commercial and industrial applications. DriSteem offers custom systems for critical indoor environments such as health care, data centers, and other facilities requiring precise control of moisture and cooling in the air.
DriSteem's 50-year history of development and innovation has resulted in multiple patented designs that not only meet, but anticipate, customers' unique needs. DriSteem is a subsidiary of Research Products Corporation, manufacturer of Aprilaire®​, the leading residential humidifier brand, as well as air cleaners, heat-recovery systems and HVAC accessories. Visit DriSteem at www.dristeem.com.
###
Share: