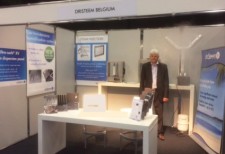 Eden Prairie, MN, July 5, 2017 (Newswire.com) - DRI-STEEM Corporation (DriSteem), a leading manufacturer of humidification, evaporative cooling, and water treatment systems, exhibited their products at the annual VTDV (The Association for Technical Services of Care Centers) Conference on May 19 in Genk, Belgium.
Marc Briers, DriSteem European Regional Sales Manager, said "The VTDV conference gave us the opportunity to share the benefits of DriSteem humidification systems with facility management professionals working in health care settings. Keeping relative humidity (RH) levels within a range of 40 to 60 percent not only decreases bacteria and viruses in the air, but hinders the development of fungi, mites, chemical interactions, and ozone production – all of which are critical concerns in a healthcare environment."
Briers showcased a number of DriSteem products at the conference, including the Low-maintenance Humidification System which combines an electric humidifier and reverse-osmosis system in one fully integrated package. The high purity water means less chalky scale build-up in the heat exchanger, ensuring reliable, long-term humidifier performance with near zero maintenance and the virtually elimination of downtime.
The DriSteem Ultra-sorb® Model XV steam dispersion panel was also shown. An industry first for pressurized steam, Ultra-sorb XV vaporizes dispersion-generated condensate and returns pressurized condensate to the boiler without additional pumps, valves, vents, or controls.
The DriSteem High-pressure system was featured as well. This adiabatic, or evaporative cooling, system handles every aspect of the application from the potable supply water source to the cooled/humidified conditions in the air handler, duct or space.
The VTDV is an association of various facility management professionals working in general health care settings, such as university and general hospitals, housing care and service centers for the elderly, psychiatric hospitals and mental health services, institutions for disabled and youth welfare, and daycare. The association contributes to continuous improvement of health care services through professional development, information and networking by organizing an annual conference with exhibition, holding seminars, organizing company visits, providing training, attending international conferences and events, and supporting the exchange of information between members.
About DriSteem
DriSteem is a premier provider of humidification, evaporative cooling, and water treatment solutions for commercial and industrial applications. DriSteem offers custom systems for critical indoor environments such as health care, data centers, and other facilities requiring precise control of moisture and cooling in the air.
DriSteem's 50-year history of development and innovation has resulted in multiple patented designs that not only meet, but anticipate, customers' unique needs. DriSteem is a subsidiary of Research Products Corporation, manufacturer of Aprilaire®, the leading residential humidifier brand, as well as air cleaners, heat-recovery systems and HVAC accessories. Visit DriSteem at www.dristeem.com.
###
Source: DriSteem
Share: