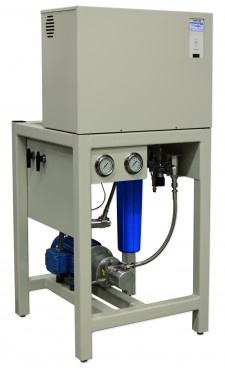 Eden Prairie, MN, May 31, 2017 (Newswire.com) - DRI-STEEM Corporation (DriSteem), a leading manufacturer of humidification, evaporative cooling, and water treatment products, offers a High Pressure Atomizing System (HPAS) featuring an advanced water pump that significantly reduces maintenance demand.
The high speed motor in the DriSteem High Pressure Atomizing System pump station is designed so that the water pump's rotating surfaces are cushioned by water, which eliminates the need for oil. This advanced water lubricated pump does not require a maintenance check until 8,000 hours. Comparatively, systems that use low speed motors with oil lubricated pumps require frequent oil changes at every 500 hours.
John Kimmes of DriSteem's technical support group puts the value of this water lubricated pump into perspective noting: "The time, expense, and mess of pump oil changes are a burden on the facilities
team. Dealing with oil lubricated pumps drives up system lifecycle costs. Water lubricated pumps
require less frequent maintenance and when performed, the checks are fast and clean."
The DriSteem High Pressure Atomizing System draws heat from air to evaporate unheated water introduced by high-pressure nozzles. This process raises the relative humidity (RH) level and lowers the dry bulb air temperature. Consequently, the system humidifies and cools air very efficiently. This provides significant energy savings when cooling and humidifying simultaneously. The system's Vapor-logic® controller monitors multiple zones and conditions to modulate and control nozzle operation – optimizing absorption and minimizing water waste.
The humidity provided by the High Pressure Atomizing System enhances indoor air quality, manufacturing processes, material longevity, and comfort while taking advantage of the free cooling and energy savings inherent with this technology – making it a great choice for a wide variety of applications, including data centers, print shops, and industrial paint booths.
For more information about DriSteem's High Pressure Atomizing System, visit www.dristeem.com or call (800) 328-4447.
About DriSteem
DriSteem is a premier provider of humidification, evaporative cooling, and water treatment solutions for commercial and industrial applications. DriSteem offers custom systems for critical indoor environments such as health care, data centers, and other facilities requiring precise control of moisture and cooling in the air.
DriSteem's 50-year history of development and innovation has resulted in multiple patented designs that not only meet, but anticipate, customers' unique needs. DriSteem is a subsidiary of Research Products Corporation, manufacturer of Aprilaire®​, the leading residential humidifier brand, as well as air cleaners, heat-recovery systems and HVAC accessories. Visit DriSteem at www.dristeem.com.
Source: DriSteem
Share: