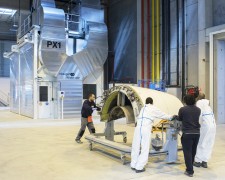 Eden Prairie, MN, May 23, 2017 (Newswire.com) - DRI-STEEM Corporation (DriSteem), a leading manufacturer of humidification, evaporative cooling, and water treatment products, announced the release of a case study that documents the success of DriSteem's High-pressure System in controlling humidity and heat in aircraft paint booths.
Headquartered in Belgium, Sima is an international leader in the manufacture and distribution of painting and drying booths for aeronautical, industrial, and automotive applications. These booths require optimum temperature and humidity, which are critical for surface preparation, curing time, and coat adhesion.
A project at an aircraft maintenance facility near the Charles de Gaulle Airport in France had 16 separate, isolated booths for washing, blasting, and painting aircraft components that required a humidification system that was large enough for the job, capable of tight relative humidity control, and able to humidify without adding heat to the airstream.
DriSteem's High-pressure System provided Sima with the ideal solution. The High-pressure System was able to maintain required relative humidity without raising the air temperature in the multiple, separately controlled paint booths. Since evaporative humidification requires less energy than steam humidification, the High-pressure System keeps operating costs down.
Marc Briers, DriSteem's European Sales Manager, said "I knew that our High-pressure System was a sure candidate for the airline's new facility because it efficiently provides humidity without heat gain."
The aircraft maintenance facility has been operational since the winter of 2015. DriSteem is proud to play a critical role in a challenging design for Sima, among the top ten paint and drying booth suppliers in Europe, and the largest supplier in the Benelux region.
To learn more, read DriSteem's case study, DriSteem and Sima engineer a humidification solution for aircraft paint booths.
For more information about DriSteem's High-pressure System, visit www.dristeem.com or call (800) 328-4447.
About DriSteem
DriSteem is a premier provider of humidification, evaporative cooling, and water treatment solutions for commercial and industrial applications. DriSteem offers custom systems for critical indoor environments such as health care, data centers, and other facilities requiring precise control of moisture and cooling in the air.
DriSteem's 50-year history of development and innovation has resulted in multiple patented designs that not only meet, but anticipate, customers' unique needs. DriSteem is a subsidiary of Research Products Corporation, manufacturer of Aprilaire®​, the leading residential humidifier brand, as well as air cleaners, heat-recovery systems and HVAC accessories. Visit DriSteem at www.dristeem.com.
###
Source: DriSteem
Share: