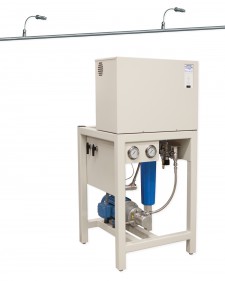 Eden Prairie, MN, May 19, 2017 (Newswire.com) - DRI-STEEM Corporation (DriSteem), a leading manufacturer of humidification, evaporative cooling, and water treatment products, demonstrates improvement in print quality and consistency of commercial display graphics when humidifying via High-pressure atomization.
Modernistic is one of the nation's leading suppliers of commercial display graphics. Modernistic's digital press prints onto substrates using microscopic ink droplets. These droplets, having so little mass, are extremely sensitive to even the tiniest static influence. Droplets pulled off course by a static charge merge into a blob, which splashes onto the media and leaves a very visible smear.
Some of the print jobs coming off Modernistic's new digital press had unwanted smears of ink caused by static electricity. Press operator Eric Madison witnessed this phenomenon too frequently. "With too much static electricity, the reject rate can be as high as 1 out of every 7 pieces," he explains. "We needed a better way to control static in the shop." A humidification system was needed that could effectively accommodate the volume and precision requirements of the digital press room.
DriSteem's High-pressure System was the perfect solution for Modernistic, because it provides high-capacity humidification along with the flexibility to serve multiple zones with varied demand, all with a single pump station. Additionally, the evaporative cooling effect offsets the building's cooling load.
DriSteem's High-pressure System has been running at Modernistic since the fall of 2015. The reject rate for large-format digital press output dropped significantly — from 14 percent to 2.5 percent. Additionally, electricity consumption at Modernistic was lowered enough to qualify for a significant utility rebate.
To learn more, read DriSteem's case study, DriSteem helps improve print consistency for a national leader in commercial display graphics.
For more information about DriSteem's High-pressure System, visit www.dristeem.com or call (800) 328-4447.
About DriSteem
DriSteem is a premier provider of humidification, evaporative cooling, and water treatment solutions for commercial and industrial applications. DriSteem offers custom systems for critical indoor environments such as health care, data centers, and other facilities requiring precise control of moisture and cooling in the air.
DriSteem's 50-year history of development and innovation has resulted in multiple patented designs that not only meet, but anticipate, customers' unique needs. DriSteem is a subsidiary of Research Products Corporation, manufacturer of Aprilaire® , the leading residential humidifier brand, as well as air cleaners, heat-recovery systems and HVAC accessories. Visit DriSteem at www.dristeem.com.
###
Source: DriSteem
Share: