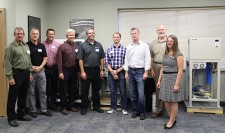 Eden Prairie, MN, August 10, 2017 (Newswire.com) - DRI-STEEM Corporation (DriSteem), the leading manufacturer of humidification, evaporative cooling, and water treatment products, recently hosted a Manufacturers Alliance Product Development Peer Group Meeting at their facility.
The meeting was held in DriSteem's newly updated training center on Wednesday, August 2, 2017. Dan Celotta, DriSteem's New Product Development Engineering Manager, gave a presentation about DriSteem's transition to a new organization-wide stage gate process.
The stage gate process is often a procedure that is used within a manufacturer's engineering department to track the progress of new product development projects. DriSteem is expanding this process to include all departments, gaining participation and insights from the entire organization.
"DriSteem is dedicated to continuous improvement of our processes and products, and being a part of this Manufacturers Alliance Peer Group allows us to collaborate and share manufacturing approaches with other industry leaders," Celotta commented.
The meeting generated feedback and a lively group discussion about stage gate processes and best practices for informing an organization of project status.
The Product Development Peer Group is a part of Manufacturers Alliance, an industry association with hundreds of leaders from local manufacturing companies that form groups to discuss challenges with experienced peers and to offer opportunities to benchmark leading manufacturers.
Learn more about the Manufacturers Alliance at www.mfrall.com.
For more information about DriSteem, visit www.dristeem.com or call (800) 328-4447.
About DriSteem
DriSteem is a premier provider of humidification, evaporative cooling, and water treatment solutions for commercial and industrial applications. DriSteem offers custom systems for critical indoor environments such as health care, data centers, and other facilities requiring precise control of moisture and cooling in the air.
DriSteem's 50-year history of development and innovation has resulted in multiple patented designs that not only meet, but anticipate, customers' unique needs. DriSteem is a subsidiary of Research Products Corporation, manufacturer of Aprilaire®, the leading residential humidifier brand, as well as air cleaners, heat-recovery systems and HVAC accessories. Visit DriSteem at www.dristeem.com. ​​
###
Source: DriSteem
Share: