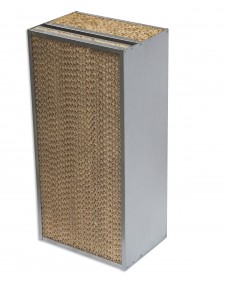 EDEN PRAIRIE, Minn., November 13, 2017 (Newswire.com) - DRI-STEEM Corporation (DriSteem), a leading manufacturer of humidification, evaporative cooling and water treatment products, introduces three new product options for the Wetted Media System, meeting the requirements of today's systems that often require cost-efficient evaporative cooling and humidification.
New options for DriSteem Wetted Media Systems include:
New Media Size
In addition to 12" (305 mm) media, DriSteem now offers 8" (203 mm) media for situations where there is lower demand. 8" media restricts flow rate less than 12" media, resulting in a lower pressure drop.
Built-in Droplet Separator
Order the system with a built-in droplet separator to remove water droplets that can form when operating at higher face velocities. The ability to operate at higher velocities delivers more conditioned air to a controlled space.
User-controlled Version
The user-controlled Wetted Media System does not include the DriSteem Vapor-logic® controller, which saves on cost while maintaining the flexibility to work with an existing Building Automation System.
Wetted Media Systems work by using the heat already in the air to evaporate water as it passes through saturated media, saving on energy costs compared to alternative evaporative cooling equipment or steam humidification. In addition, the Wetted Media System can effectively manage shoulder season cooling load, as well as assist on peak cooling days to avoid the purchase of additional cooling equipment. In retrofit situations where the cooling load has increased, installation of a Wetted Media System is significantly less costly than adding a chiller.
DriSteem Wetted Media Systems provide evaporative cooling and humidification for a wide variety of applications while taking advantage of the free cooling and energy savings inherent with this technology. For more information about DriSteem's Wetted Media System, visit www.dristeem.com or call 952-949-2415.
About DriSteem
DriSteem is a premier provider of humidification, evaporative cooling and water treatment solutions for commercial and industrial applications. DriSteem offers custom systems for critical indoor environments such as health care, data centers and other facilities requiring precise control of moisture and cooling in the air.
DriSteem's 50-year history of development and innovation has resulted in multiple patented designs that not only meet, but anticipate, customers' unique needs. DriSteem is a subsidiary of Research Products Corporation, manufacturer of Aprilaire®, the leading residential humidifier brand, as well as air cleaners, heat-recovery systems and HVAC accessories. Visit DriSteem at www.dristeem.com.
Source: DriSteem
Share: