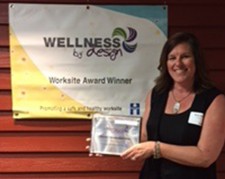 Eden Prairie, MN, June 29, 2017 (Newswire.com) - DRI-STEEM Corporation (DriSteem), the leading manufacturer of humidification, evaporative cooling, and water treatment products, is pleased to announce that they have received the 2017 Wellness by Design Award for excellence in worksite wellness. The award recognizes organizations that make employee health a priority through creative and effective wellness initiatives.
Wellness by Design Awards are presented to Hennepin County employers that demonstrate accomplishments in management support, wellness infrastructure, communication, and programming directed at improving employee health.
"We are honored to be named a Wellness by Design Award winner, "said Birdy Dahl, DriSteem Human Resources Manager. "DriSteem is proud to be recognized for our commitment to employee health and wellness."
Learn more about the Wellness by Design program at www.hennepin.us/publichealthpromotion. For more information about DriSteem, visit www.dristeem.com or call (800) 328-4447.
About DriSteem
DriSteem is a premier provider of humidification, evaporative cooling, and water treatment solutions for commercial and industrial applications. DriSteem offers custom systems for critical indoor environments such as health care, data centers, and other facilities requiring precise control of moisture and cooling in the air.
DriSteem's 50-year history of development and innovation has resulted in multiple patented designs that not only meet, but anticipate, customers' unique needs. DriSteem is a subsidiary of Research Products Corporation, manufacturer of Aprilaire®​, the leading residential humidifier brand, as well as air cleaners, heat-recovery systems and HVAC accessories. Visit DriSteem at www.dristeem.com.
###
Source: DriSteem
Share: