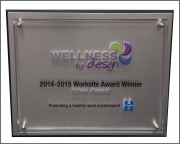 Eden Prairie, MN, July 7, 2015 (Newswire.com) - DRI-STEEM Corporation (DriSteem) recently received the 2015 Wellness by Design Award from Hennepin County for excellence in worksite wellness. The award recognizes organizations that make employee health a priority through creative and effective wellness initiatives.
"DriSteem fosters a workplace culture that supports and promotes health and wellness," said Birdy Dahl, Director of Human Resources at DriSteem. "Our company wellness program is called 'Health Matters" and includes an annual health screening and assessment, along with other programs and events that support healthy lifestyle choices such as nutrition, exercise, weight control, and stress management."
DriSteem also provides an onsite health coach/wellness coordinator 2 days per week to promote these health programs and events, as well as to encourage employees to participate.
The Wellness by Design Award was given at the Earle Brown Heritage Center in Brooklyn Center on June 25th to more than 81 worksites. Wellness by Design Awards are presented to Hennepin County employers that demonstrate accomplishments in their wellness infrastructure, management support, assessment, evaluation, communication, and programming.
For more information about DriSteem, visit www.dristeem.com or call 952-949-2415.
About DriSteem
DriSteem is a premier provider of humidification, evaporative cooling, and water treatment solutions for commercial and industrial applications. DriSteem offers custom systems for critical indoor environments such as health care, data centers, and other facilities requiring precise control of moisture and cooling in the air.
DriSteem's 50-year history of development and innovation has resulted in multiple patented designs that not only meet, but anticipate, customers' unique needs. DriSteem is a subsidiary of Research Products Corporation, manufacturer of Aprilaire®​, the leading residential humidifier brand, as well as air cleaners, heat-recovery systems and HVAC accessories. Visit DriSteem at www.dristeem.com.
###
Share: