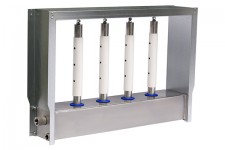 EDEN PRARIE, Minn., August 23, 2017 (Newswire.com) - DRI-STEEM Corporation (DriSteem) announced that the Ultra-sorb MP steam dispersion panel was recently selected as a finalist in the Consulting Specifying Engineer magazine (CSE) 2017 Product of the Year competition.
DriSteem's Ultra-sorb MP was chosen as one of fourteen finalists in the HVAC (Heating, ventilation, and air conditioning) category by a panel of professional consulting engineer judges who regularly design and specify HVAC, electrical, fire protection, and plumbing systems. CSE subscribers are casting their votes now and the winners will be announced Sept.15, 2017.
Designed and built for today's HVAC systems where moderate-capacity humidification requirements are common, the Ultra-sorb MP is a framed steam dispersion panel which allows for easy installation, requiring fewer connections than other steam dispersion systems. Ultra-sorb panels are the only dispersion panels in the industry built to order in 1" increments, so the Ultra-sorb MP permits a perfect fit to air handling unit and duct dimensions.
The Ultra-sorb MP features in-frame condensate drain piping that maximizes available humidification face dimensions while minimizing duct blank-off requirements and is designed with same-side steam inlet and condensate outlet for clean installation in air handling units or ductwork.
The Ultra-sorb MP features DriSteem dispersion tubes specially engineered to provide maximum steam-to-air contact at design capacity. These tubes ensure rapid, drip-free absorption so steam does not condense on downstream de vices. DriSteem's industry-leading high-efficiency insulated dispersion tubes are available as an option, providing up to an 85% reduction in wasted energy by significantly reducing airstream heat gain and condensate production.
The Ultra-sorb MP is the newest addition to DriSteem's line of Ultra-sorb steam dispersion panels which have been trusted for their quality and guaranteed shortest absorption distances for 25 years.
"We are thrilled that the Ultra-sorb MP was selected as a finalist for the 2017 CSE Product of the Year awards," said Phil Lilja, DriSteem product manager. "We designed the Ultra-sorb MP to provide Ultra-sorb performance for jobs requiring moderate-capacity humidification and it has quickly become one of our best-selling steam dispersion products."
For more information about DriSteem's Ultra-sorb MP, visit www.dristeem.com or call 952-949-2415.
About DriSteem
DriSteem is a premier provider of humidification, evaporative cooling, and water treatment solutions for commercial and industrial applications. DriSteem offers custom systems for critical indoor environments such as health care, data centers, and other facilities requiring precise control of moisture and cooling in the air.
DriSteem's 50-year history of development and innovation has resulted in multiple patented designs that not only meet, but anticipate, customers' unique needs. DriSteem is a subsidiary of Research Products Corporation, manufacturer of Aprilaire®, the leading residential humidifier brand, as well as air cleaners, heat-recovery systems and HVAC accessories. Visit DriSteem at www.dristeem.com.
###
Source: DriSteem
Share: