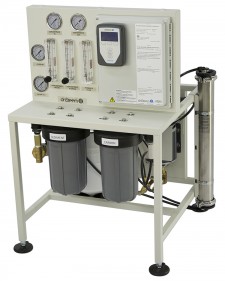 Eden Prairie, MN, April 13, 2017 (Newswire.com) - DRI-STEEM Corporation (DriSteem), a leading manufacturer of humidification, evaporative cooling, and water treatment products, announces the 200 Series reverse-osmosis water treatment system with Building Automation Systems (BAS) network communications capability and comprehensive system management.
Designed for DriSteem equipment and stand-alone operation, the compact 200 Series reverse-osmosis system significantly reduces or eliminates maintenance on downstream equipment by removing over 98% of dissolved solids from supply water. It fits into small spaces, producing high purity water, reducing required maintenance and providing a low total cost of ownership.
The Vapor-logic® controller on the 200 Series provides menus for all system functions, with a web interface, and integrates with Modbus®, BACnet®, and LonTalk. Alarms quickly inform the users of issues or changes for easy monitoring and corrective action. The 200 Series also includes a built-in TDS sensor that sends notifications to the BAS when the total dissolved solids concentration rises too high, ensuring timely maintenance and continued system performance.
Designed to be energy-efficient and easy to use, the 200 Series is packaged and ready to operate right out of the box. High-efficiency, extra low-energy membranes use little energy to generate pure water. Innovative pull-up membrane cartridges save space and make membrane replacement easy.
"Our customers were asking for water treatment that would work with their DriSteem equipment, either because they were in an area with poor water quality or because they wanted to reduce maintenance time and costs," said DriSteem Product Manager Steve Felber. "Now we can offer them our own RO systems that take the guesswork out of compatibility because they've been engineered to work with our humidifiers."
DriSteem water treatment systems also include water softening equipment for use with RO systems or directly with humidification equipment, making maintenance easier and less frequent for humidification equipment.
For more information about DriSteem water treatment systems, please visit www.dristeem.com or call 952-949-2415.
About DriSteem
DriSteem is a premier provider of humidification, evaporative cooling, and water treatment solutions for commercial and industrial applications. DriSteem offers custom systems for critical indoor environments such as health care, data centers, and other facilities requiring precise control of moisture and cooling in the air.
DriSteem's 50-year history of development and innovation has resulted in multiple patented designs that not only meet, but anticipate, customers' unique needs. DriSteem is a subsidiary of Research Products Corporation, manufacturer of Aprilaire®​, the leading residential humidifier brand, as well as air cleaners, heat-recovery systems and HVAC accessories. Visit DriSteem at www.dristeem.com.
###
Source: DriSteem
Share: