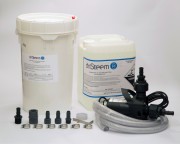 Eden Prairie, MN, August 11, 2015 (Newswire.com) - DRI-STEEM Corporation (DriSteem), a leading manufacturer of humidification, evaporative cooling, and water treatment products, recently released a new product, the de-scaling pump kit, with a powerful pump that thoroughly breaks down scale deposits in humidifier water tanks without the effort of hand-scraping.
Scale buildup on humidifier heaters and heat exchangers acts as an insulator, reducing humidifier performance while increasing energy costs. DriSteem's De-scaling Pump Kit circulates the de-scaling solution in the humidifier water tank to remove these chalky scale deposits more effectively, and keep humidifiers operating as efficiently as possible.
"The agitation from this pump greatly increases the effect the de-scaling solution has on mineral deposits in the water tank. Our approach makes it so much easier and quicker for our customers to clean their humidification system – effectively providing a net zero manpower cost," said Terry Bolen, DriSteem Parts Manager. "And our de-scaling agent is environmentally safe, when neutralized it can be flushed into city and municipal sewers."
The DriSteem De-scaling Pump Kit includes hose connections for all DriSteem resistive electric, gas, and steam-to-steam humidifiers.
Watch a video of the DriSteem De-scaling Pump Kit in action here.
For more information about the DriSteem De-scaling Pump Kit, visit www.dristeem.com/de-scaling pump kit or call 952-949-2415.
About DriSteem
DriSteem is a premier provider of humidification, evaporative cooling, and water treatment solutions for commercial and industrial applications. DriSteem offers custom systems for critical indoor environments such as health care, data centers, and other facilities requiring precise control of moisture and cooling in the air.
DriSteem's 50-year history of development and innovation has resulted in multiple patented designs that not only meet, but anticipate, customers' unique needs. DriSteem is a subsidiary of Research Products Corporation, manufacturer of Aprilaire®​, the leading residential humidifier brand, as well as air cleaners, heat-recovery systems and HVAC accessories. Visit DriSteem at www.dristeem.com.
###
Share: