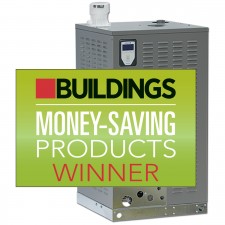 EDEN PRAIRIE, Minn., July 3, 2018 (Newswire.com) - DRI-STEEM Corporation (DriSteem) is proud to announce that BUILDINGS magazine has named its LX series gas-fired humidifier as a 2018 Money-Saving Product Award winner.
The GTS® humidifier LX series (patents pending) is the most recent addition to DriSteem's market-leading gas-fired humidifiers. The LX series has the flexibility to tackle almost any application. The LX series offers:
Condensing design provides for highest efficiency and PVC venting: Saves money on energy costs with greater than 90 percent efficiency.
Ultra-low NOx for a clean environment and to meet increasingly stringent regulations: Ultra-low nitrogen oxide emissions of under 20 ppm conform to SCAQMD (South Coast Air Quality Management District) 1146.2 air quality management standards for gas-fired humidifiers.
Reduced installation costs: The LX series patent-pending condensing technology ensures that the flue temperature stays under 140°F, allowing for the use of PVC, CPVC or polypropylene flue piping which is less expensive, easier to work with than stainless steel and can be vented through sidewalls, saving on installation costs.
5:1 turndown ratio for accurate humidity control: The LX series has a 5:1 turndown ratio for accurate humidity control through a wide range of load conditions, providing consistent output from low to maximum demand.
Sensing technology that adjusts drain intervals automatically in addition to accurately measuring water tank level: The LX series humidifiers' electronic water level control accurately manages tank filling and draining with all water types from tap to deionized. This universal water control means that there is no need to change configurations based on water type when ordering equipment or retrofitting to fit new water sources in the field.
Space-saving design for ease of installation and placement flexibility: All LX series humidifiers feature a small footprint for easy installation in crowded mechanical rooms, with a wall-mounting option for 50 and 75 lbs/hr models for even more placement flexibility. For installing outdoors, there is a climate-controlled outdoor enclosure option available.
"We are thrilled that the LX series was selected for the 2018 BUILDINGS Money-Saving Product Award. DriSteem's gas-fired humidifiers have been trusted for their quality in the industry for over 20 years," said Phil Lilja, DriSteem product manager. "We are especially proud of the new LX series because it offers a next-generation breakthrough for energy savings, installation flexibility and environmental protection."
Finalists were evaluated by the BUILDINGS editorial staff for the money-saving qualities they offer to building owners and facility managers in areas such as energy consumption, water savings, lighting, security, roofing and maintenance. DriSteem's LX series is showcased in the magazine's June 2018 issue as part of an elite group of money-saving products.
For more information about DriSteem's GTS humidifier LX series, visit www.dristeem.com/products/steam-generation/gas-steam-humidifier/gts-humidifier-lx-series or call (800) 328-4447.
About DriSteem
DriSteem is a premier provider of humidification, evaporative cooling and water treatment solutions for commercial and industrial applications. DriSteem offers custom systems for critical indoor environments such as health care, data centers and other facilities requiring precise control of moisture and cooling in the air.
DriSteem's 50-year history of development and innovation has resulted in multiple patented designs that not only meet but anticipate customers' unique needs. DriSteem is a subsidiary of Research Products Corporation, manufacturer of Aprilaire®, the leading residential humidifier brand, as well as air cleaners, heat-recovery systems and HVAC accessories. Visit DriSteem www.dristeem.com.
Source: DriSteem
Share: