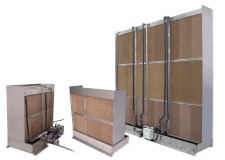 Eden Prairie, MN, August 9, 2016 (Newswire.com) - DRI-STEEM Corporation (DriSteem), the leading manufacturer of humidification, evaporative cooling, and water treatment products, is proud to announce that BUILDINGS magazine has selected its Wetted Media System as a 2016 Money-Saving Product Award winner.
DriSteem's Wetted Media System is part of an elite group of products showcased in the magazine's June 2016 issue. Finalists were evaluated by the BUILDINGS editorial staff for the money-saving qualities they offer to building owners and facility managers in areas such as energy consumption, water savings, lighting, security, roofing, and maintenance.
The heat that is already in the air passes through the Wetted Media System's saturated media which evaporates the water, saving on energy costs when compared to alternative evaporative cooling equipment or steam humidification. Saving even more time and money than the free cooling and energy savings already inherent in this technology, DriSteem's Wetted Media System also includes unique, patent-pending technologies:
Up-time is maximized with individual pumps that separately control each of the multiple stages of media. This allows the system to dry out one stage at a time, so remaining stages can operate continuously, evaporating water and cooling the air.

Maintenance time is minimized because water is constantly circulated through the UV germicidal system, while a power flush pump suspends and removes debris that can cause scale buildup.

The structural integrity of the media is protected by cycle of concentration control, reducing the frequency of media replacements.
"The DriSteem Wetted Media System delivers reliable evaporative cooling and humidification, saving money by reducing the need for mechanical cooling," said Steve Felber, DriSteem Product Manager. "We are pleased that BUILDINGS has recognized our Wetted Media System as combining the highest performance with energy- and cost-efficient operation."
Click here to see the winning entry for DriSteem's Wetted Media in BUILDINGS Money-saving Products Awards. For more information about the DriSteem Wetted Media System, visit www.dristeem.com or call 952-949-2415.
Source: DriSteem
Share: